More information at Fulbrighters 2022/23
Bonaventura Tagliafierro, who recently completed his doctoral program at our department, won a European competition and was awarded the prestigious Fulbright-Schuman fellowship, getting funded to continue his research.
Research Project: Towards carbon neutrality by 2050: Improving marine and wind energy exploitation rate by numerical modeling
Host Institution: University of Wisconsin–Madison (Masidon, WI)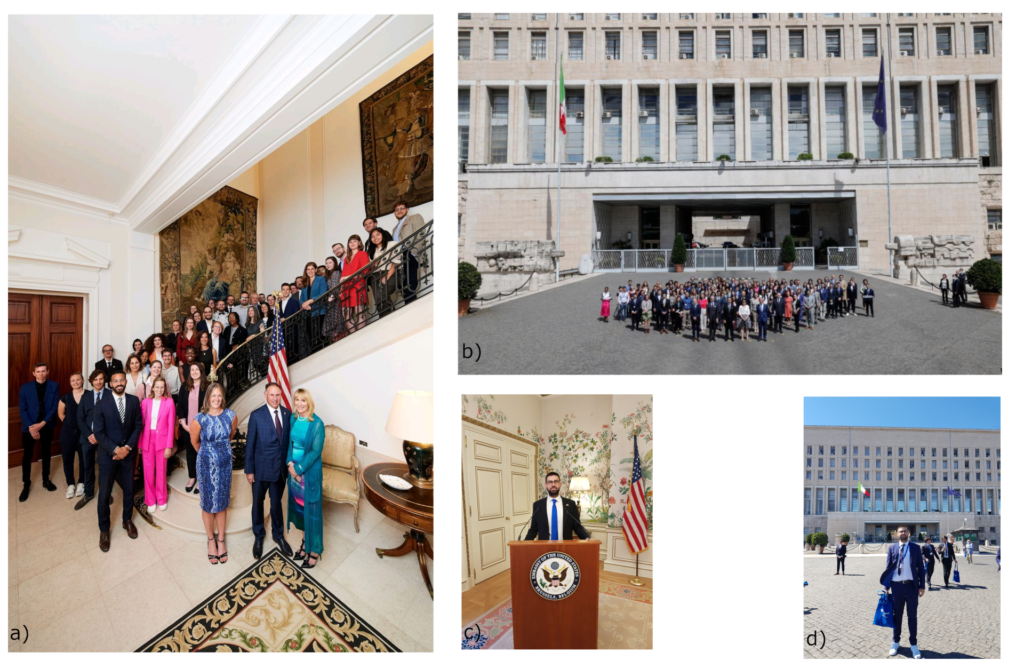 Reception in honor of the Fulbright Program on Wednesday 15 June 2022 at the U.S. Embassy in Belgium (Commission for Educational Exchange between the United States, Belgium, and Luxembourg) in Figure a) and c). Fulbright Annual Meeting Italy on Friday 10 June at the Ministry of Foreign Affairs and International Cooperation – Farnesina, 1 00135 Roma in Figure b) and d) .
The Fulbright program is present in more than 160 counties (including Italy), is funded by the US Department of State and grants scholarships for a study or a research period in the USA, promoting the mutual understanding between people. Specifically, the Fulbright-Schuman is co-funded by the European Commission and researchers from all over the European Union can participate in the competition.